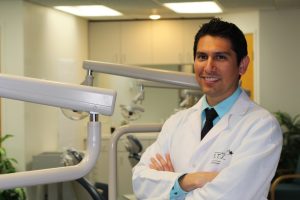 We are caring, skilled professionals, dedicated to simplifying what is often a very complicated and confusing area of health care. We want all our patients to be informed and knowledgeable about their dental health care, from treatment plans and services, to insurance coverage. Let us know what is on your mind and ask questions because excellence in dentistry begins with a careful co-diagnosis and treatment plan to establish the goals we will achieve together. We will help you realize an investment in yourself pays dividends for a lifetime.
DR. JOSE C. CASTILLO, D.D.S., M.A., M.M.Sc.
Dr. Jose C. Castillo is an orthodontist and practices Orthodontics and Dentofacial Orthopedics for children, teens, and adults. He is the owner of Park View Orthodontics of San Diego, located in Bankers Hill, San Diego, CA across from Extraordinary Desserts and 1 block away from Balboa Park.
He was born and raised in Laredo, Texas, a border town, speaking English and Spanish where he graduated from high school as class valedictorian. Dr. Castillo attended Duke University in Durham, NC on a full-ride scholarship. After receiving a degree in Biological Anthropology & Anatomy, a second degree in Spanish Literature, and a minor in Chemistry, he then completed formal dental training at Columbia University and concurrently completed a Master in Science and Dental Education at Columbia Teachers College. He proceeded on completing Orthodontics and Dentofacial Orthopedics specialty training and a Master in Medical Sciences in Oral Biology at Harvard University.
After completing residency, Dr. Castillo moved to San Diego in search of finding an Orthodontics practice that would match his goals of being intimately involved in a local community. Currently, he serves as a volunteer Orthodontist at a student-run free clinic, holds the position of Volunteer Clinical Instructor at the Department of Family Medicine and Public Health at the University of California San Diego Health, and serves as a Harvard University Interviewer for students applying to Harvard. He enjoys playing soccer, practicing martial arts, and surfing. Dr. Castillo loves attending continuing education courses and staying up to date with new technologies and Orthodontic techniques. He has completed externships at the National Institutes of Health (NIH), Kings College London Dental Institute, and a global health externship at the Dominican Republic.
He feels blessed to be a part of this profession for the last 8 years, and he takes pride in the training that he has received. His emphasis is on esthetic Orthodontic treatment, clinical efficiency and efficacy, and treating both purely Orthodontic and interdisciplinary cases including surgical and craniofacial/cleft patients. Dr. Castillo's treatment philosophy is an eclectic mix of Orthodontic philosophies and techniques, and his experience stems from using different bracket systems, appliances, and technologies such as clear/ceramic braces, lingual braces, Invisalign, TADs, digital radiography, digital models, 3D imaging, 3D photography, soft tissue lasers, and esthetic teeth whitening. These experiences have prepared Dr. Castillo to seamlessly integrate into private practice, and he is excited to engage in this new phase of his life.
ORGANIZATIONS/COMMITTEES
American Association of Orthodontists – Member
Pacific Coast Society of Orthodontists – Board Member
San Diego Academy of Orthodontists – Board Member
American Dental Association – Member
California Dental Association – Member
San Diego County Dental Society – Board Member
Hispanic Dental Association – Member
Functional and Cosmetic Excellence (FACE) group – Member
HOBBIES AND INTERESTS
Dr. Castillo likes to stay active. He likes to play soccer and practice capoeira, a type of Brazilian martial arts that combines elements of dance, acrobatics, and music.